Thinkout Events
---
Starting out as a European Escape Game company called Think Your Way Out, it has now partnered Lockdown Singapore to become the most exciting events company in Singapore. With more than 30,000 participants over the past year enjoying the Lockdown brand, ThinkOut is now bringing the experience to your doorstep!
Do you want to organize the coolest event in Singapore?
Do you want to hold the most engaging and impactful corporate team-building program?
You are at the right place!
---
---
Popular Events
---
Thinkout Events hosts a variety of activities and can customize an event to meet your needs.
The event was a success with my students. They had thoroughly enjoyed the experience, despite finding some challenges taxing. It was a great opportunity for them to exercise their critical thinking skills out of the classroom. I am intending to conduct this again for my future students.Dr. Venus Ho, Lecturer, Raffles College of Higher Education
The team message was well delivered at the end of the programme and one of the participant even confided in me that this is one of the most fun team building programme ever in her years with the company! Two thumbs up for a great job done!Mr. Anthony Teh, OCBC Bank
My team had a great time at the game yesterday. We look forward to be back to Lockdown Singapore!Ms. Susan Ting, Expedia
Rest assured, we will be back!!Mr. Edwin Choo, Singapore Police Force
The entire team thought it was an excellent Team Building. We will sure come by another time. Thanks again!Ms. Mary Anthony - Johnson & Johnson
Thanks for a great day of fun and learning. I am generally skeptical of teambuilding activities, but Lockdown was both fun and insightful. That is why I booked a second visit for our Centre and also a birthday party for my son and his friends. I am a believer. See you next time.Mr. Eric Finkelstein, DUKE NUS
Many Thanks to Lockdown, for hosting us! Received many positive feedback from the team J and they are even bringing their families and friend back to Lockdown again!Ms. Flora Tan, American Express
The team had enjoyed ourselves and really appreciate your warm hospitality. Definitely will consider Lockdown for our future events.Mr. Byran Lim, ExxonMobil
Everyone really enjoyed themselves on Friday, thank you very much for helping us organise the event!Ms. Jocelyn Ting, PricewaterhouseCoopers
Will definitely recommend our future GE events at Lockdown again!Mr. David Wong, General Electric
Thank you, I believe our team found it a very stimulating and exciting bonding experience.Ms. Joyce Tan, Ministry Of Education
We had a great time! Will certainly recommend you to others.Ms. Amina Mahmood Islam, Duke-NUS
Your team did a great job & met most of our requirements. Our staff definitely enjoyed themselves especially with each puzzle solved as a team. We will definitely recommend Lockdown to our friends as a venue for team bonding activities.Mr. Jeremy Lim, Carlo Gavazzi
Our department had some fun and thank for being patient with the constant changed made. Once again great work and hope to visit you guys again as we had so much fun.Mr. Carlo Lim, Singapore Land Authority
The rooms were really fun and the experience were great.Mr. Andrew Lim, Great Eastern Life
It is great! Our team enjoyed ourselves with the games. Great bonding activity.Mr. Joe Sim & Ms. Florence Kang, People's Association
My team enjoy the games very much, thanks for hosting!Ms. Apple Liong, Shell
Thanks for hosting the event and its really fun!!!Ms. Kathryn Tong, Apple
Whisper of the Guardians
---
A shop house owner was renovating his attic when he discovered an old scroll, which supposedly contains information leading to the treasure left behind by rich Chinese merchants escaping from the Japanese during WWII. You have been hired to help decipher the scroll, with the promise of a share of the treasure if you find it.
Along the way, you will soon discover that there are guardians of the treasures, loyal families who swore to protect the treasure through generations, who have been waiting for the rightful heir. Can you locate the treasure before the thieves reach them?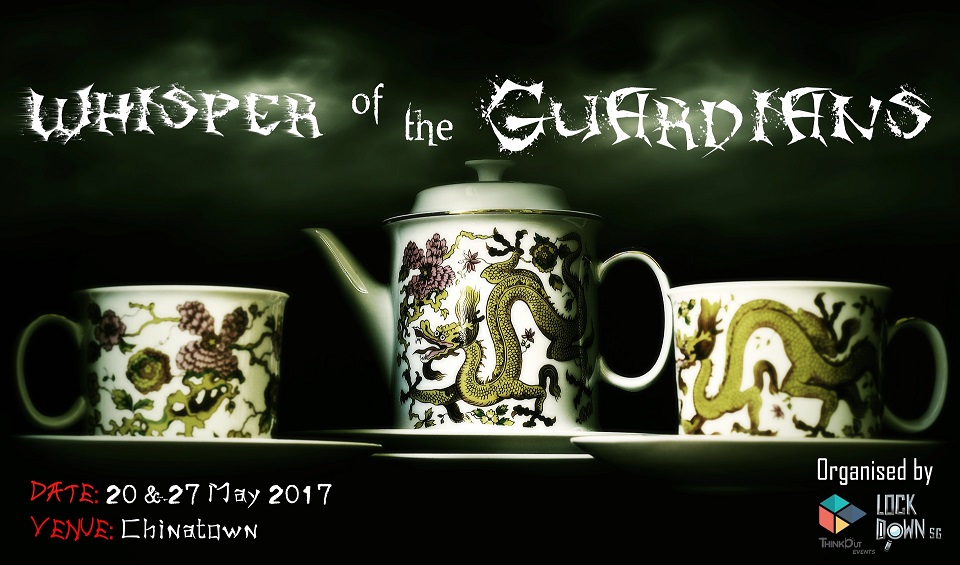 Our Clients
---
Many major corporations have trusted ThinkOut Events to be their event planner. Be part of the group that trusts ThinkOut Events and make your event a success!
Get In Touch
---
Contact us today at contact@thinkoutevents.com for a customized event of any type and proportion!
---